Accrington Carnival

Bumper crowds

See below and click here
Mayor's

column
Shohaib bases

Project on Accrington's Heritage
| | |
| --- | --- |
| | Doctor Barbara |
Connie Hyde

Talks to the Acorn

Feature and pictures
Whewell's celebrate
60 years.

Report and pictures

Click here
We want to hear from you
If you have any comments or questions about any of the stories and articles on this website, any suggestions for future features or if you have any expertise on any of the subjects covered and would like to contribute an article about that subject, please contact us at:
editorial@acornnews.co.uk
REARRANGED CARNIVAL A TRIUMPH
A last minute change of venue didn't deter 14,000 people from lining the route and attending Accrington Carnival, which was held for the first time in the Town Square on Sunday June 23rd.
On what was mainly a pleasant Sunday afternoon the procession travelled from Thorneyholme Road to the carnival ground amidst enthusiastic support. During the afternoon, the crowd were treated to music from the Accrington Pipe Band, Radioactive, The Itch and Whitefake and Saint Michael featuring soloists Simon Anderton, Beth Berry, Morgan Halliwell, Joe Edwards and Mark Barcroft.
Also strutting their stuff were Hyndburn Comets, Ashleigh's Dance Academy, Emma Lou Cheerleaders, Totally Tribal, Dramatic Annie Dancers and Wonderful School of Dance.
The event was organised by the Community Group chaired by Gayle Knight who took over its running in 2017 after several years of being run by Accrington Lions. The reason for the change of venue (it was supposed to be at Oak Hill Park) was an intervention by the council because the ground was unsuitable for vehicles and fairground rides after a persistent spell of rain.
There was also a Mascot race which was won by Mickie Mouse and Jake Wood of J2a was presented with the Tony Cooper Volunteer Award for all his hard work in the preparation of this year's event. The award was named after the popular lead singer of The Soundcasters, also on the 2017 committee, who sadly died last year.
Gayle also stated that the 2021 Carnival was planned but as always volunteers were needed to make it happen. Well done to all who helped organise and took part in another successful Accrington Carnival.
© Peter Jones 2019
Check out our new look website
Rhyddings Park to flourish this summer. Please click here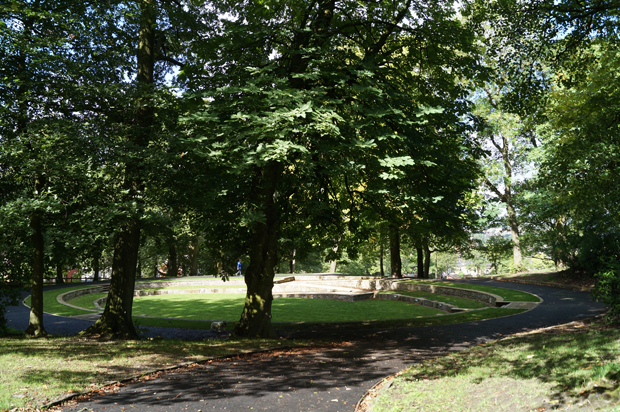 Picture: Peter Jones 2018
* * * * *