HYNDBURN BUSINESS AWARDS THIRD YEAR SUCCESSES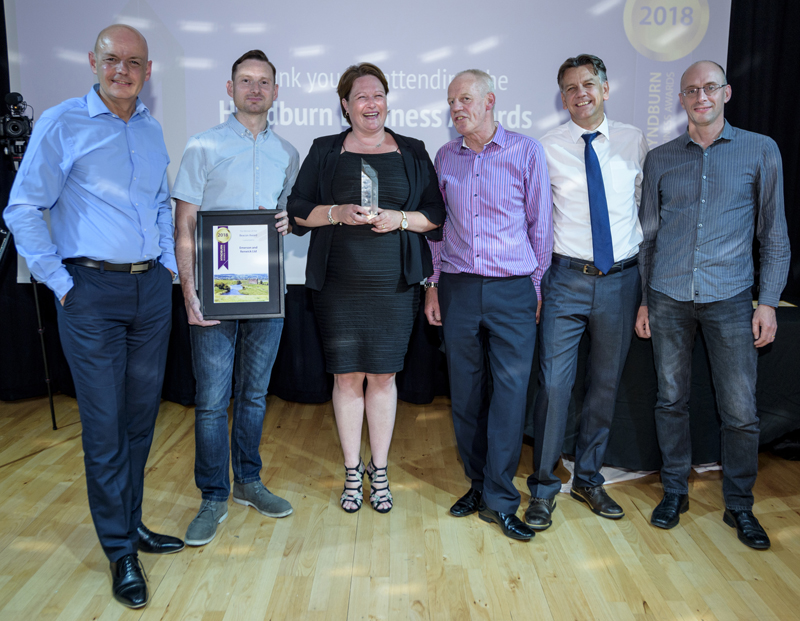 Andrew Mcloughlan, Steve Dicken, Claire Briggs, Tony Brennand, Michael Wright, Mick Buckley with Beacon Award
AN INNOVATIVE hi-tech company celebrated its centenary in style by winning the Beacon award as the most inspiring business in Hyndburn.
More than 270 people packed Accrington Town Hall for the glitzy Hyndburn Business Awards presented by Liz Pollard of Liz Pollard Consulting.
In their third year, the awards attracted 639 nominations more than ever before.
A cheer went up when Church company Emerson and Renwick Ltd was announced as the winner of the Beacon Award and the team, led by Finance Director Andrew McLaughlan, was delighted to collect a bespoke crystal trophy engraved by Alexis Valentine of Walking on Glass.
Andrew said: "What makes this really special is the fact it is the centenary for our company. This year we are planning a series of special events including a fun day when we expect more than 300 colleagues and children to attend."
In the past few years the business has grown incredibly from a workforce of 120 to 160. More than 90 per cent of its products are exported all over the world putting Hyndburn firmly on the map.
Andrew added: "A key thing for us is that we are a local business, it doesn't matter where we sell to, we are firstly a Hyndburn business and these awards are important for us to raise our profile."
For the first time the Evonne Harwood Event of the Year award, sponsored by the Accrington Observer was presented.
News Editor Stuart Pike presented the award and paid tribute to the businesswoman, who died last year and in whose honour it is named.
The winner was decided by a public vote on Facebook and the J Drinkwater Tournament 2017 organised by Globe Bullough Park Football Club was selected.
The event attracts 124 teams aged under six to under 16 from across the country to play two hectic days of football.
Next year is the 10th anniversary and Chairman Graham Roberts said: "It is an honest tournament and not all about winning, it is about children of all abilities being about to play football.
"This trophy is not for us it is for all the children who play in the matches."
A lovely meal was provided by Accrington and Rossendale College, before the 17 trophies were handed out in a slick ceremony.
Winning the Pride of Hyndburn Award was Accrington Lions Club and President May Edmundson, who hands over the chains next month to Richard Gibson, said it was the highlight of her year.
She said: "For our club to get something called the Pride of Hyndburn Award is absolutely amazing. It will mean so much to our members who are always doing things for other people. It is very special."
Rob Carder, of awards' organiser Enterprising People, said: "Each year the awards get better and better and the entrepreneurship we discover in Hyndburn and the amazing success stories make these awards extra special and a pleasure to organise."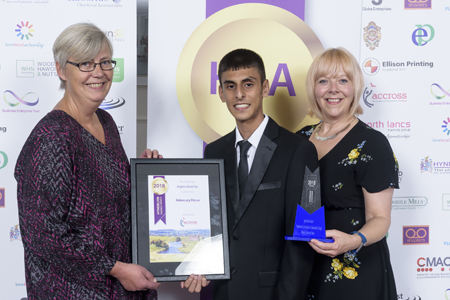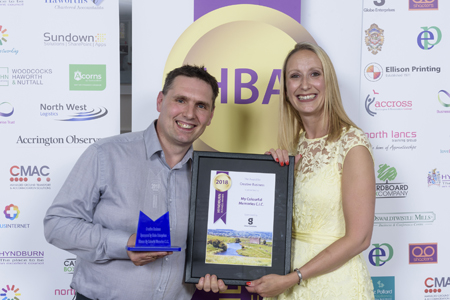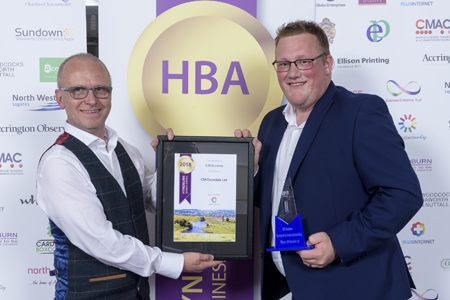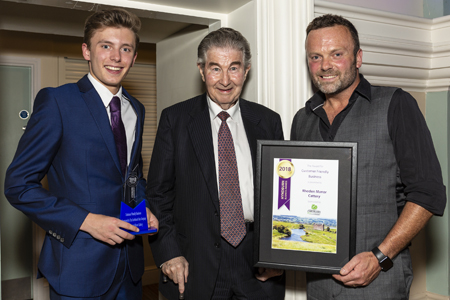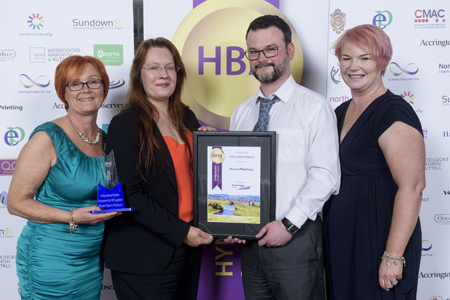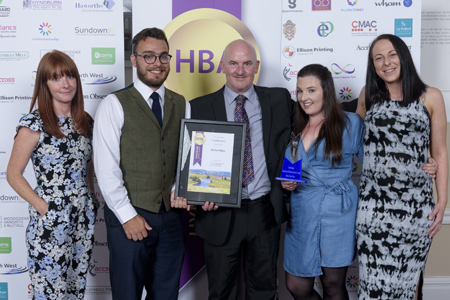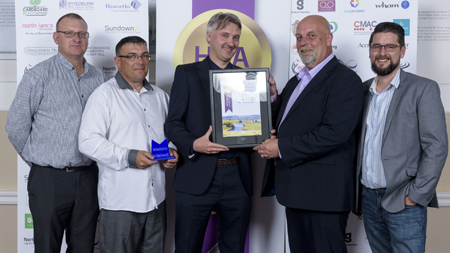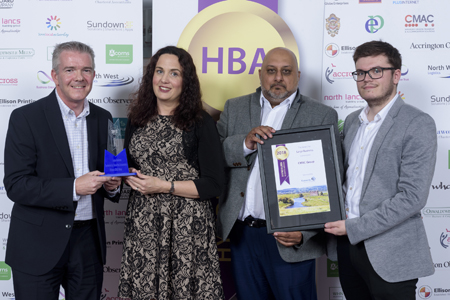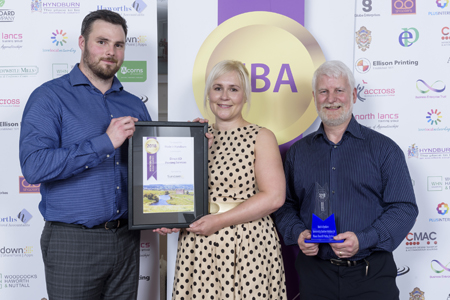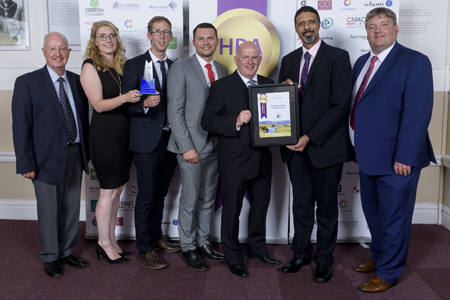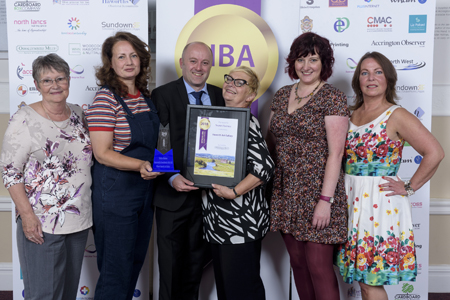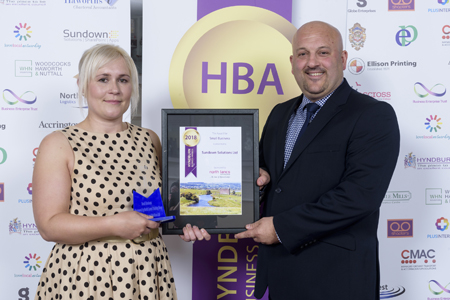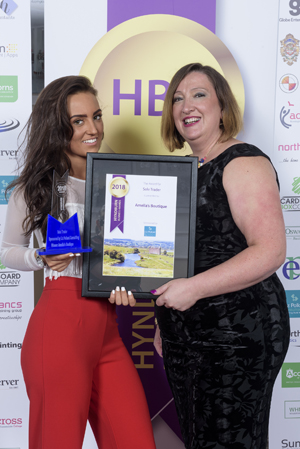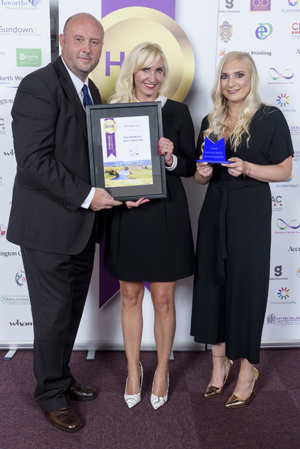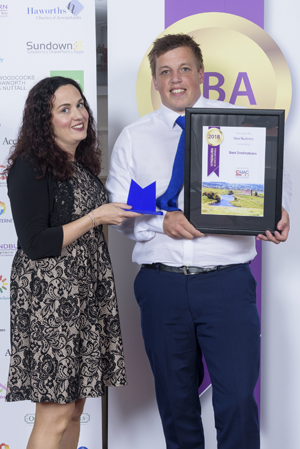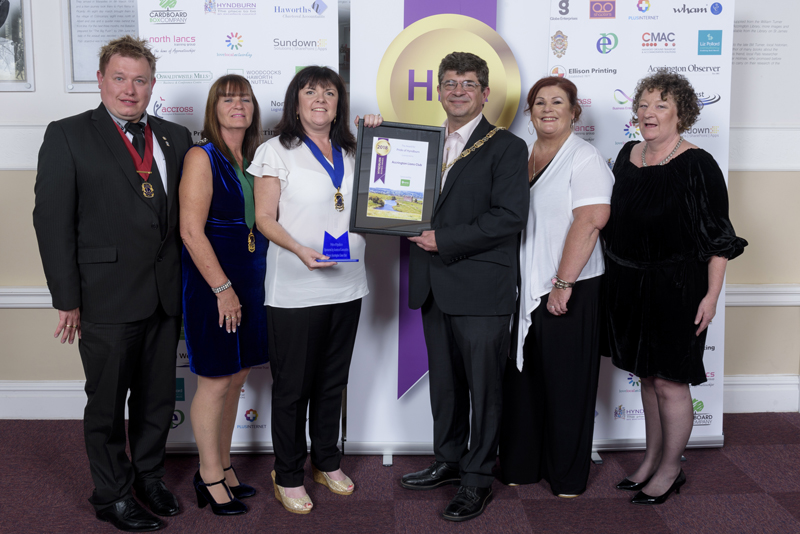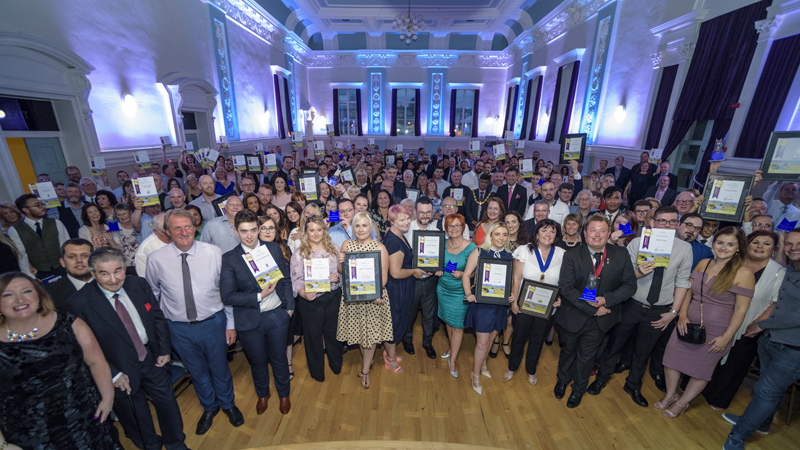 Words and Pictures courtesy of Catherine Smyth Media
The complete list of winners:
Sole Trader L-R: Amelia King, Liz Pollard
Apprenticeship L-R: Charlotte Scheffmann, Ammaar Ahmed, Jenny Dixon
Creative Business L-R: Neil Floyd, Nikki Holbrook
Pride of Hyndburn L-R: Richard Gibson, Suzzan Gilbert, May Edmonson, Brendan Duffy, Bev Wood, Cheryl Duffy
Independent Retailer L-R: Dawn Blake, Miranda Barker, Andrew Grierson, Jacqueline Grierson
B2B Business L-R: Alexis Valentine, Paul Towler
Tourism Business L-R: Margaret Porter, Gillian Berry, Philip Woodford, Yvonne Robins, Alison Iddon, Nicola Blackledge
Food Business L-R: Joanne Warden, Patrick Swanney, Ian Kay, Robin Kay, Louise Spencer
Small Business L-R: Kelly Groves, Gareth Lindsay
Large Business L-R: Paul Spencer, Clare Mahmood, Arif Hussain, Josh Bibby
Made in Hyndburn L-R: Joe Mugan, Kelly Groves, Tim Perkins
Not for Profit Award L-R: David Keeley, Sarah Hunt, Lee Walsh, Martin Fearon, David Burgess, Shahed Mahmood, Robert Houseman,
Evonne Harwood Event of the Year L-R: Martin Leach, Wayne Roberts, Stuart Pike, Mick Clegs, Chris Ford
New Business L-R: Clare Mahood, Andrew Gabriel
MicroBusiness L-R: Tony Dobson, Adele Ainsworth, Carla Ainsworth
Customer Friendly Business L-R: Josh Dodding, Peter Street, Craig Dodding

Beacon Award L-R: Andrew Mcloughlan, Steve Dicken, Claire Briggs, Tony Brennand, Michael Wright, Mick Buckley
* * * * *
MUSBURY FABRICS HAVE BEEN MAKING YOU COMFY FOR OVER TWENTY YEARS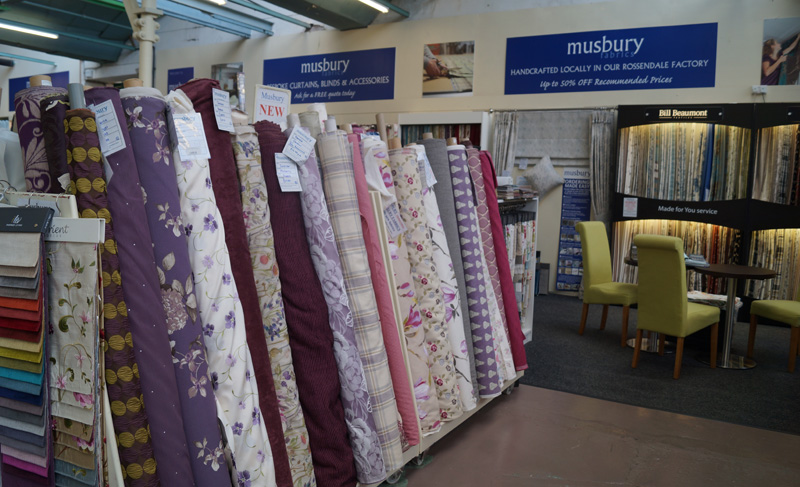 Musbury Fabrics have been housed at Park Mill, Helmshore since the 1990s. The company, owned by Alistair Mitchell and Kathryn Carr, specialise in bespoke bedding, curtains, cushions, window blinds and many other soft furnishings.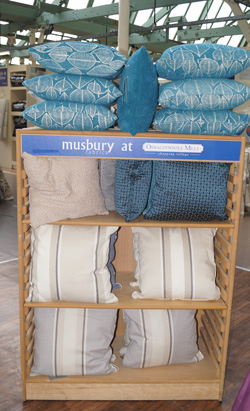 They manufacture a variety of custom made products in their on-site factory in Haslingden and specialise in the making up of curtain fabrics by a team of experienced and highly skilled machinists who also have specialist knowledge in curtains, bedspreads, foot throws, cushions, voiles, blinds, swags and tails, valances and tie backs, according to their website, where you can also order from their online collection. Just visit www.musburyfabrics.co.uk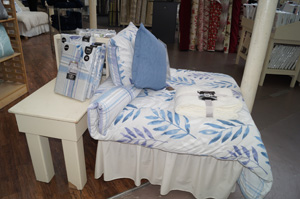 Alistair and Kathryn also sub-let a café and a gift shop at the mill premises and have their factory shop next door.
The gift shop is called The Furniture & Gift Emporium and the Mill Café at the other end of the substantial downstairs area provides hot meals, sandwiches and an array of beverages. The owner of the Mill Café, Andrew Clarke-Cope has a workforce of six and the café is open daily from 10 a.m. to 4 p.m.
Apart from Helmshore, Musbury Fabrics have two other stores in the area at Oswaldtwistle Mills and Pendle Village. They are currently trialling a new initiative whereby each of their stores has a sleep specialist who will help people select the best bedding, duvets etc. to assist with a good night's sleep.
Alistair was kind enough to speak to me about the business and he told me:
"We manufacture bespoke bedding and custom made curtains, cushions and throws and roller blinds."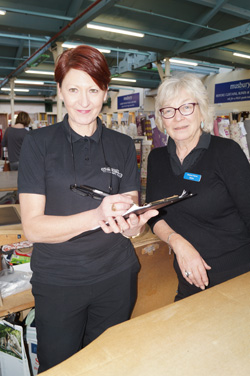 Whilst Musbury no longer weave their own fabric, they buy the best available and make it into the wonderful array of soft furnishings that you will see in any of their outlets. They advertise quality goods at Mill prices and who can argue with that. Over the years my wife and I have bought their products and have never been dissatisfied. At Oswaldtwistle Mills, which is nearest to where I live, the staff are always ready to help you in a friendly and courteous manner and after speaking to Alistair I can see why.
He is obviously proud of the business and even speaking to him you can feel his enthusiasm to maintain the quality that Musbury have achieved for the last twenty odd years.
I asked him what his vision was for the future. His answer tells you all you need to know and I'll leave the last word with him:
"Really it's just to keep making beautiful curtains and bedding."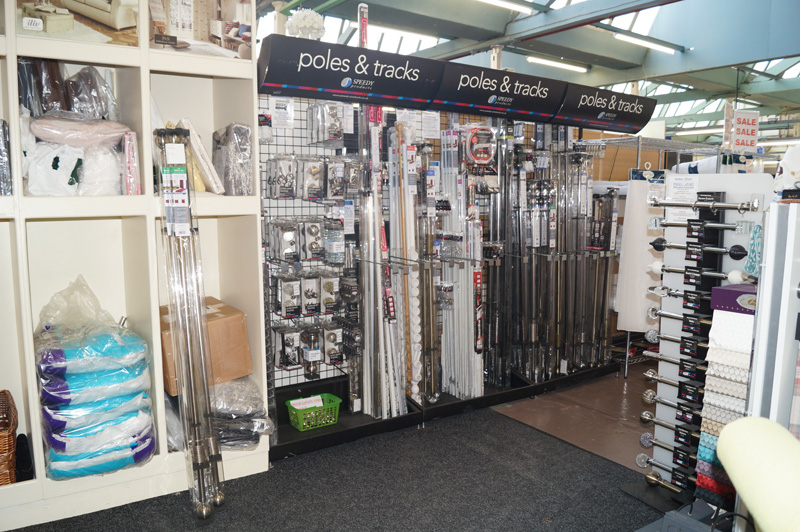 © Peter Jones 2018
* * * * *
CAFE ART AT ITS BEST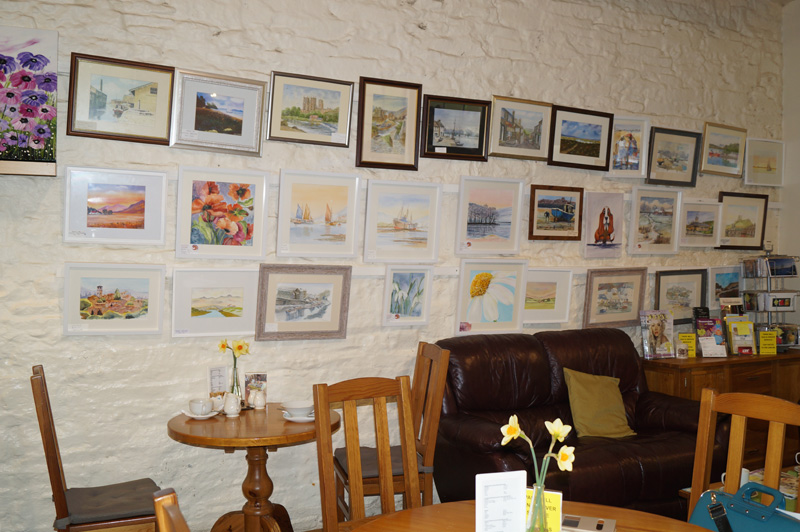 Many café's throughout the region display pictures by local artists. The gallery at The Mill Café in Park Mill, Helmshore is a little different, however, in that 10% from the sale of each painting, goes to Rossendale Hospice.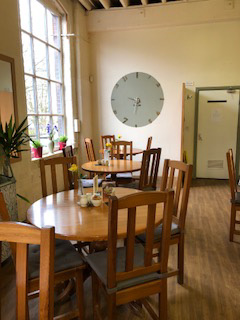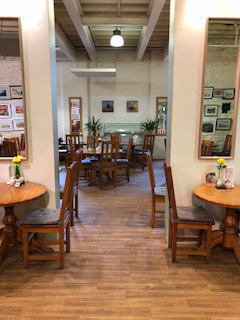 Andrew Clarke-Cope who owns the café, told me:
"The artists are allowed to display their works for a few months free of charge, but then new artists are given the chance to replace them. If the artists sell a painting, 10% will go to the Hospice and they will keep the rest."
The Mill café is open seven days a week from 10 a.m. to 4 p.m. and Andrew has a staff of six. They provide a varied menu including hot food, sandwiches and a selection of beverages and the café occupies half of the spacious area that has a gift shop at the other end.
The whole area had a welcoming ambience and the artwork certainly enhances this. Andrew told me that the café has a regular client base and I am sure it attracts new customers by word of mouth. It's certainly worth a visit.
© Peter Jones 2018
* * * * *
RESURGENT COMPANY GOES FROM STRENGTH TO STRENGTH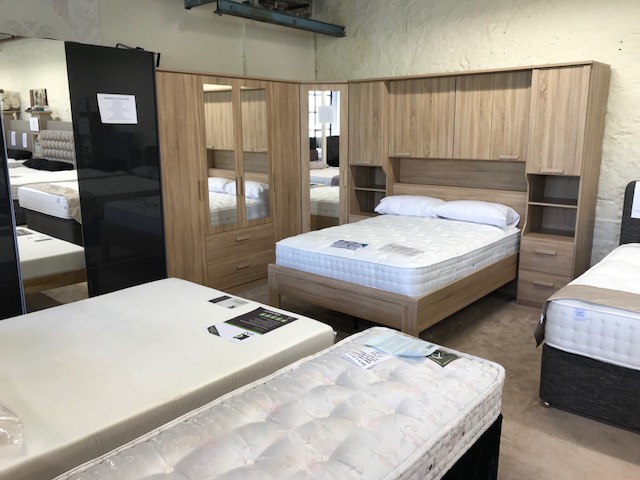 Park Mill Furniture and Flooring have just celebrated their second anniversary at Park Mill, Helmshore.
The company, owned by Shaun Evans has actually risen Phoenix-like from the ashes of the former site of their business, Lambert's Mill, which, whilst not destroyed by fire, was devastated by heavy floods that caused damage and destruction to stock which included sofas, beds and carpets. This unfortunately caused the business to close.
That was in December 2015 but by April 2nd the following year, Shaun and business partner, John Booth launched a new business at Park Mill where they occupy the complete second floor.
Shaun was quoted as saying:
"It has taken 14 weeks of hard work to get to this stage."
The business is now going from strength to strength and Park Mill Furniture and Flooring provides a wide range of furniture including beds, mattresses, sofas and chests of drawers for every pocket. This is all backed up by employing experienced fitters who have been with the firm for a number of years.
The company has recently expanded its product range to include living and dining room furniture and also makes its own range of sofas and a large range of upholstery items are also manufactured in the company's on-site workshops. These workshops also now offer a re-upholstery service and the team can recover anything from a saggy chair to a complete suite.
This is a triumph for dogged determination and a never-say-die attitude.
© Peter Jones 2018
* * * * *
CAXTON PRINTING COMPANY – LINKING THE PAST AND THE PRESENT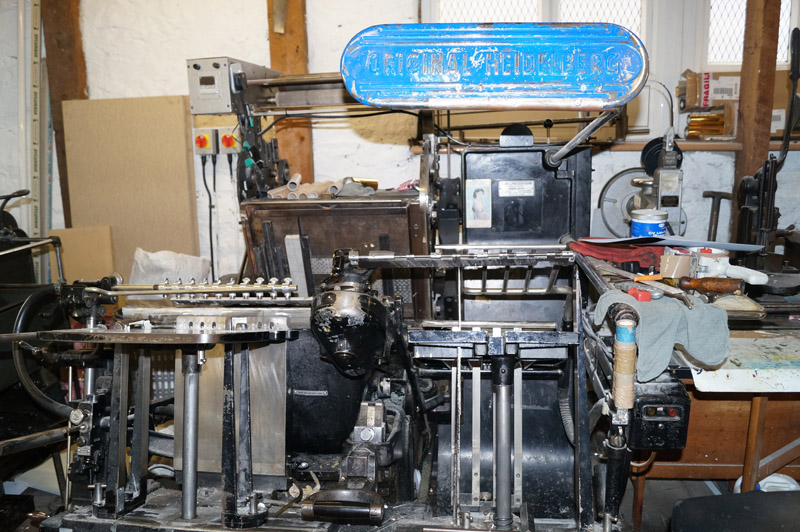 When George Parkinson bought the Caxton Printing Company of Peel Street, Accrington in 1950 it had probably already been in existence for some 74 years as researchers have found references from as early as 1876.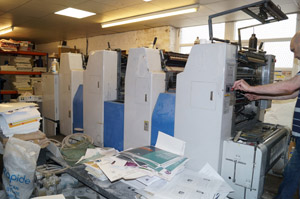 Today and for more than fifty years the company's address is Tremellen Street in the town. It is now owned by Paul Entwistle who served his apprenticeship under Mr Parkinson at the present site. He heads a six-strong workforce which includes his son Ross and was kind enough to allow me to interview him and take a look around his premises.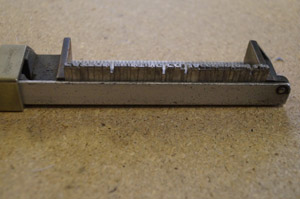 Up until last year when lack of space forced him to get rid of redundant stock, he told me that the place was "like a museum" with all the original typefaces still on site. The items he parted with are now used in a teaching workshop so by no means consigned to the scrap-heap.
From its historic beginnings, Caxton Printing is now a modern printer competing with other printers in the area, providing posters, brochures, leaflets etc. and for the most part using modern printing methods to do so. There are some older machines present but they are only used for cutting and creasing now.
The firm still use the time-honoured method called block-foil printing for customers who require something a little special.
Most of the modern printing is done on four-colour printing presses and designed on computers. Paul has a wealth of knowledge of older and more modern methods and that must be an advantage as experience is something that can't be taught.
I found Paul Entwistle a very amicable and interesting person to interview and we at Acorn News wish him every success in the future.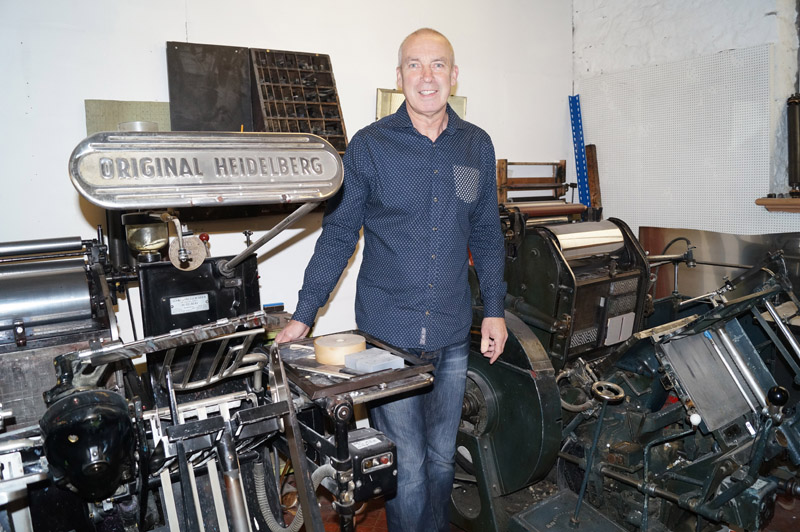 © Words and pictures Peter Jones 2015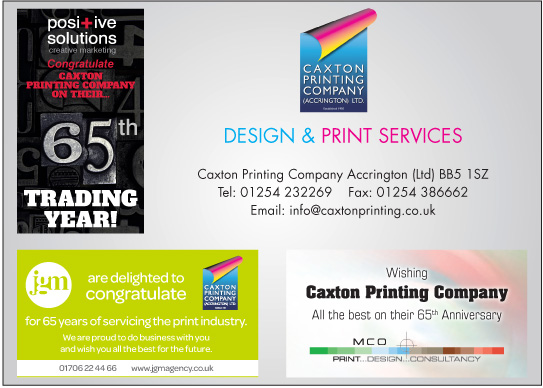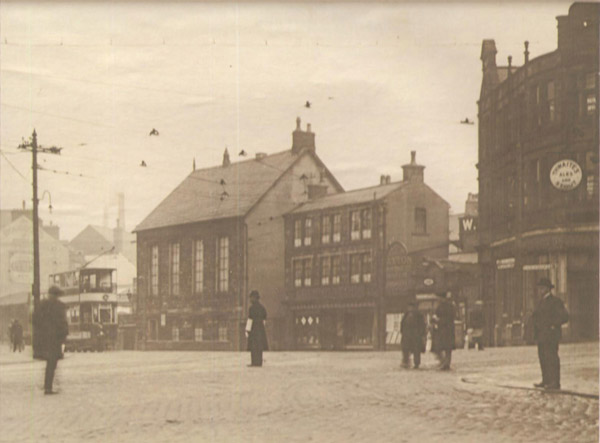 The Original Caxton Print Works in Peel Street
* * * * *