Jill McDonald-Constable is a lady of many talents. Born in Liverpool to a mother with wanderlust and an ex Air Force Dad, Jill has travelled to most parts of the country. She married a soldier, Chris, who died in 2013, and has a daughter, two grandchildren and two dogs.
She also has a website, which has recently been updated, offering hand-crafted items along with a new and innovative, Art based, service. We will talk about that more in due course, but first we should look at how this remarkable woman embarked on her love for art, crafts and writing.
Jill told me:
"My favourite school lessons were English and Art. I was a window dresser for a couple of years after school, so was able to utilize my creativity there, and since my teens, I have made many of my own and my family's clothes, and have always been writing or doodling!"
Jill is also a published author with not just one, but two publishers. She wrote three Western novels (one of only three British women to do so at the time) which were published by Robert Hale under the author name of Amos Carr, which are still available in Public Libraries. She describes them as 'shoot 'em up' cowboy books.
Later, accepted by an American publisher, Prairie Rose, she produced three more Westerns, ("selling cowboys to America was a big thrill!"), but with more romance than the first three, along with a Contemporary Romance with a slight Supernatural twist, a more scary Supernatural tale, and a real-life account of one of her dogs (in an anthology with more of their authors.)
Jill said: "At present I am working on two more books, a Medieval Romance, and one set in the 1920s. My author names now are either Jill McDonald or Gill McDonald, depending on the imprint. The books are available on Amazon, or, even better, if you would like a signed copy, with your own dedication, just get in touch!"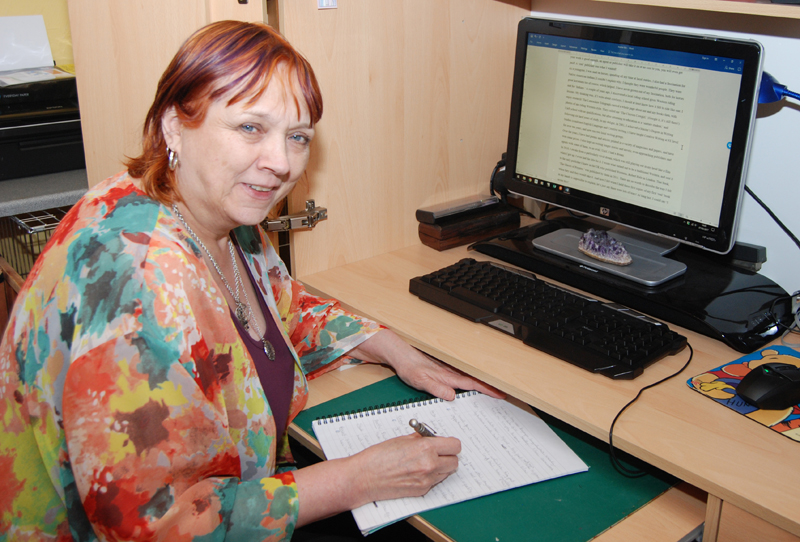 Jill is also an accomplished artist and has painted murals on commission for businesses, along with smaller works such as pet portraits, and her 'Fractured Landscape' series of abstract paintings depicting the far Highlands of Scotland. She offers a large variety of items; paintings, jewellery boxes, wall plaques, favour boxes, jewellery, and more, all of which she sells on her website.
I asked Jill about her new venture and this is what she told me:
"'The Crafty Witch' is not new, I have had a website for around 5 – 6 years, although some of the subject matter I am now including is indeed original and completely unique to me. Please take a look at www.thecraftywitch.net The name is simply because, over the years, members of my family, for one reason or another have jokingly called me a witch! And as I live in the shadow of the famous Pendle Hill, and create crafts, what better name, really? Recently, however, I have been going in different, and remarkable, directions with my work, which means more people may be interested in interacting with me. Therefore, I can now be found on Google!"
I suggested that for something like this to succeed, you need a USP and Jill assured me she definitely has that.
"My USP; what makes my business stand out, is that, along with my Arts and Crafts, I am also able to create individual, Intuitive readings for people. My 'Dragonfly Colour Readings ©' are a discipline which I have personally invented, and which are highly unusual. Not 'Spiritual' or 'Psychic' as such, but relying on my own intuition and interpretation, combined with the energies of the client at the time.
"They are carried out on the phone, thereby allowing everyone, including the housebound, to have access to something which could make a big difference to their lives. To take part in a 'Dragonfly Colour Reading ©' just call me to arrange a time and date. On the set day, you pick some numbers which correspond to my collection of highly pigmented colours. I place those colours onto quality watercolour paper, then wet them, creating a variety of shapes and blends, which I study as we talk, and I connect with your energies. After we finish, I mount up the 'picture' we have created, and post it to you, along with a small gift as thanks for purchasing a reading from me.
"My hope is to be able to reach out to more people who may be stuck, at a crossroads, or an uncertain time in their lives, and help them progress through that, as well as possibly giving them some insights into their lives which may help them see a new way to go. It may be of most interest to those who have always wanted to have a reading, but until now have been hesitant about approaching anyone. I explain what is happening every step of the way.
"As far as the rest of my Arts and Crafts, I am presently busy creating many more beautiful pieces to be gifted at a variety of occasions, or even purchased as a special present for yourself! Who knows, they may go on to become family keepsakes."
After my interview, Jill offered me an opportunity to experience one of her readings and extended her offer to Acorn News' owner, Tracy Simmonds. I was really impressed with her intuitive interpretation of my colours and many of the things she said resonated quite deeply; in a good way, I hasten to add. Tracy later had hers and felt much the same about the experience, saying in most areas, Jill was "spot on."
If you would like to book a 'Dragonfly Colour Reading' © call Jill on: 07983 765579 or for more information on them, or to purchase one of her delightful gifts, go to: www.thecraftywitch.net
Pictures: Selfie, courtesy of Jill. Middle picture Peter Jones

© Peter Jones 2020