Recently it was my pleasure to interview prominent local artist, Peter Sherburne at his Accrington home. Peter mainly paints animal, landscapes and nature in general and was commissioned by Hyndburn Borough Council to create a painting for Her Majesty, Queen Elizabeth II on her visit to the town in 2012.
I asked him how that felt and if the queen liked his artwork. He told me:
"I was privileged to meet Her Majesty and she complimented me on my attention to detail. I watched her eyes as she examined every inch of the canvas. It was a truly memorable experience."
Picture Copyright Hyndburn Borough Council
Peter has been painting since the age of fourteen and one of his first painting featured on BBC TV in the 1960s on an art show hosted by Adrian Hill. That was shortly followed when Peter and his brother David won an art competition in what was then Lancashire Evening Telegraph, the prize for which, was a meal and a film at the cinema.
Peter was telling me how much his subjects had changed since he became a Born Again Christian.
I used to paint things of the Occult. The most elaborate painting I ever did was one about mysticism with lots of symbols. Now I only paint things of God's Creation: landscapes, plants, animals etc."
He once did a painting inspired by the film, Whistle Down the Wind and sent it to Hayley Mills. In return the actress sent him a lovely letter saying how much she loved his painting and a signed photo, which Peter keeps in a frame as you can see in our picture.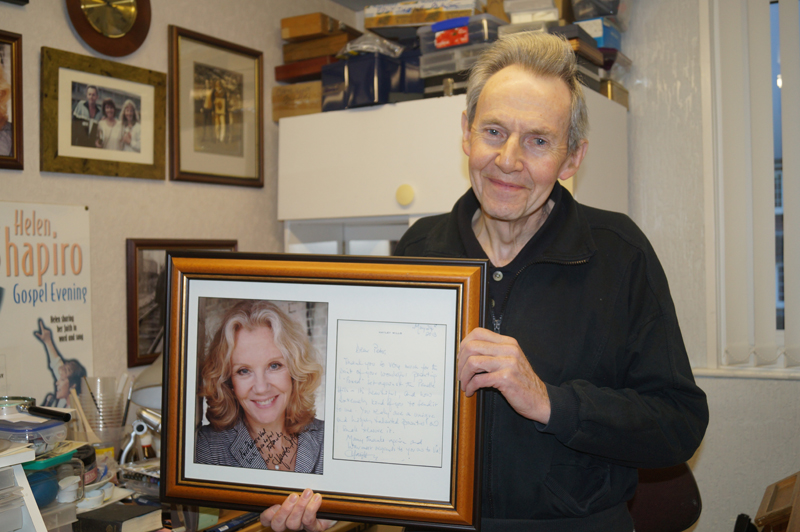 Peter told me he loves experimenting with different paints and loves to see their interaction on the canvas.
"I always build my painting up in layers," he told me. "When I was doing the one for the Queen's visit I was not very well but I soldiered on. I think it took me two months to complete."
He wants to experiment with metallic paints soon and is interested with the result. It wouldn't be the first time Peter has painted with metallic paints either. He revealed:
"When I was doing my O Levels at night school I used car paint in one of my projects. Though very happy with the result, I hadn't taken into account how pungent their smell was and I got into trouble for stinking out the class. I also got a very high mark though so it was worth it."
Although Peter had been painting for many years, one thing he had always struggled with was perspective. He was offered a position at Shopfitters Lancashire Ltd as a colour draughtsman and he held that job for 18 years until they finally closed. It was there that he mastered the missing element of perspective and has never looked back since.
After Shopfitters, Peter got a job for a firm of printers in Church Street working with a laser printer. He told me it was an interesting job and he enjoyed it immensely until someone asked him to print money for them.
Now Peter is a self-employed artist and would like to get his work more widely recognised. He told me he was primarily an artist and all he wanted to do was paint.
"I have never been good at promoting my work and perhaps that is the side I need to work on more in the future."
Amongst other celebrities Peter has sent prints of his work to is Naturalist, and former member of The Goodies, Bill Oddie.
"He said I was a real old school painter in that my work was very vibrant and true to the subject."
Although Peter does sometimes paint for a photograph, he much prefers to paint from his own head and has done that with several paintings like the one with the mushrooms on our front page.
Even when he paints form photographs though, his paintings are more intense. His use of colours and minute attention to detail ensures that. Peter also said that he never works with black as it kills a painting and nothing in nature is completely black.
"I use ultramarine or if I want it really dark, indigo," he told me.
Peter also studied Arts and Social Sciences with the Open University for a while. The ensuing qualification was the equivalent of four A levels. I asked him what he thought of HD television. He said:
"It is always in HD in my mind. Whenever I watch TV it's always with a view to composition."
I put it to Peter that his eyes were his most precious possession and asked how he kept them in good shape.
"I do eye exercises and eat food like spinach, kale and broccoli that is all good for the eyesight. In my thirties I used to teach yoga and there was an exercise I did in that to help the eyes also."
Peter was born in Accrington in 1948 and lived at 20 Owen Street, right opposite what was then the Clock Garage. Then he, his brother David and the rest of the family moved to Plantation Square where they grew up. Many of his family were artistic in some way; his brother is also a painter so I suppose it was on the cards from an early age that Peter would become an artist.
I would like to thank Peter for giving up his time to let me conduct this interview and I wish him lots of luck in the future. I am not an art buff, but looking at Peter's body of work, I can't think of many paintings that compare to the detail and love he puts into every canvas.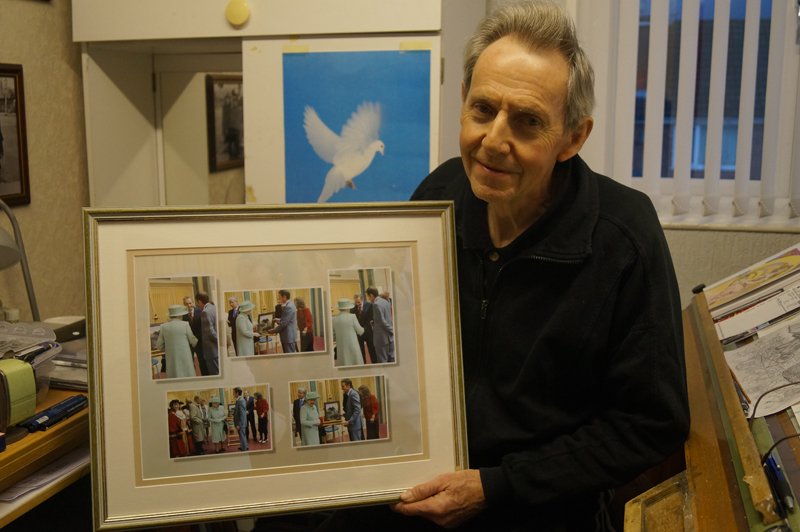 Peter shows his framed memento of his presentation to the Queen
© Peter Jones 2017 All pictures unless otherwise stated © Peter Jones